Island Rentals – the right choice
RENT A MOTORCYCLE IN BOHOL – CEBU – DUMAGUETE
100 % Maintained
We only use GENUINE parts for our motorcycles. All bikes are carefully checked before the rental. 24/7 service.
Value for Money
You get what you pay for. Topmaintained motor-cycles & scooters. Don't gamble with your safety just to save a few pesos.
We Deliver To You
We deliver your motorcycle directly to your hotel or resort, to the Airport or to the Pier at minimum 3 days rental.
Easy Reservation
Just call us, text us or contact us, using the reservation form, and we will get back to you – usualy within an hour.
Low mileage
All our motorcycles & scooters are new or newer & have low mileage, great tires, brakes and light.

You Will Enjoy
You will surely enjoy your vacation here in Bohol. You can reach your destinations with no issues on the bikes.
Rent Bohol Motorcycles & Scooters
Bohol – Panglao – Alona Beach
Want to explore the joy of seeing the highlights of Bohol on a pristine top maintained motorcycle?
Rent your motorcycle or automatic scooter at the island´s premium rental company.
We offer both automatic and manual bikes. Street Bikes and Trail Bikes – to cover your needs.
24/7 service – Scandinavian management.
Call Allan or fill out the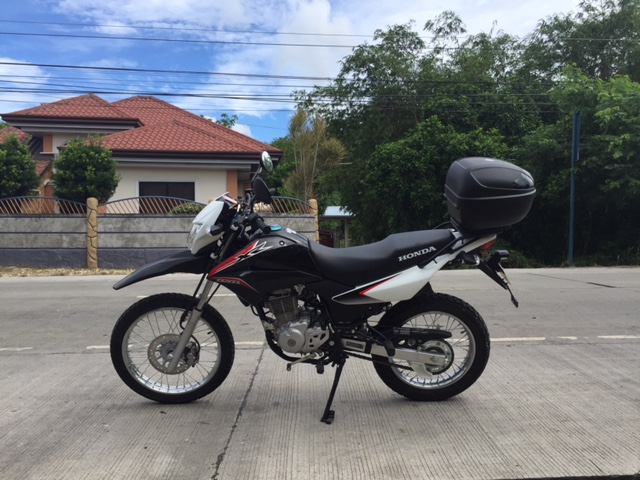 Yamaha YBR 125
Yamaha YBR 125 – one of our most rented bikes because of its diversity –
fantastic on both paved and gravel roads.
Easy to drive – and also comfortable for the passenger.
Reserve your Yamaha YBR 125 today.
Honda Click 125i Automatic
The best and smoothest scooter on the market.
If you want a ride with no problems – chose the Honda Click 125 scooter.
It will bring you anywhere on the island.
Total reliable machine – Honda at it´s best.
Honda Click 150i Vario Automatic
The latest Honda Click on the market. Now with a fantastic 150 cc engine. Even more powerful and smooth than it´s "little sister" – the 125 cc Honda Click.
Honda Click is the undisputed top end scooter – for those who are going after the best.
The Honda Click 150i Vario will wee your faithful companion no matter where you go on the island.
You can always trust Honda – book your super scooter today.
Honda XR 150 cc
Honda XR 150 – a real dirt bike –
if you want to go off the beaten tracks of Bohol.
Good for all purposes.
Reserve a Honda XR 150 cc today. Brand new model.
Kawasaki Ninja 650
Explore Bohol on a true BIG BIKE – the notorious Kawasaki Ninja 650.
Island Rentals is the only place where you can rent a Big Bike in Bohol.
It feels at ease handling Tagbilaran traffic, and is equally comfortable on the highway. Live out the dream – rent a Ninja. An unforgetable experience.
NB: Only available in Bohol – MC DL and deposit required.
Kawasaki Ninja 250 SL
Kawasaki Ninja 250 SL – the ultimate Bohol sports bike experience.
For the advanced driver with good skills.
Enjoy the curved roads of Bohol on a real Ninja.
Ride with Clyde
Want to explore the joy of seeing the highlights of Bohol on a pristine  motorcycle – without having to care about traffic and maps?
Easy done at Island Rentals. You can hire our experienced driver Clyde to do the driving. He knows the island and all the sights worth visiting – also the ones off the beaten tourist track. And he also happens to be a very nice guy …:-)
Tell him what you want to see and do – and he will take you there.
Our newest 2018 Honda Click 150 cc Automatic Scooter will be you other companion on your  Bohol Tour – a smooth, powerful and comfortable bike.
Rate per day 8 hours
incl. driver & gasoline. Free mileage
Only 1500 PHP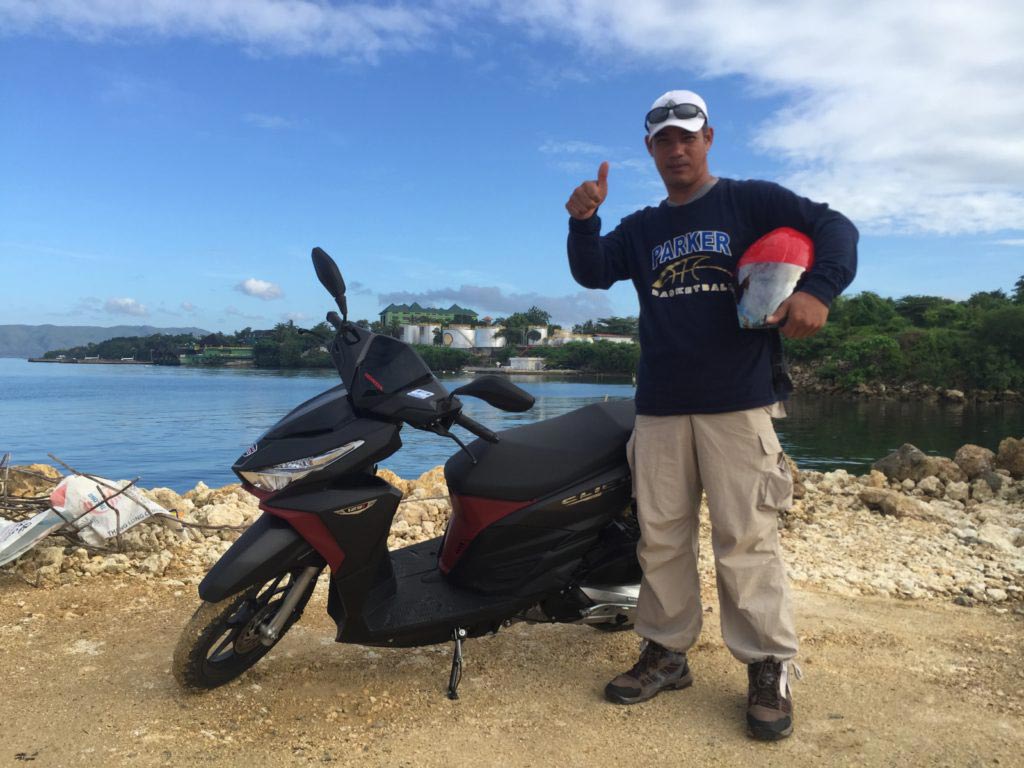 Fantastic adventure on the motor on my Bohol trip. Allan was honest, kind, and a fantastic man to do business with. If you are looking for a motorcycle or scooter, this is absolutely the place to rent.


It's great to deal with a motor rental place whose business sense is second to none, who operates the best rental service and where promises are kept. No hustles, no hidden fees – straight forward all the way.
I'll be back to Bohol next year and I´m already planning the trip. Many thanks, Allan, for helping to make my vacation an unforgetable trip.
Greg Thomas Wilkens, Holland


Hey Allan, rented from you back in February. A delayed message to say thanks. Rented from several locations during 6 week vist to the PH.
Your operations, equipment and service far excedes all others combined. Wish your bike rentals were on other islands: Boracay – Cebu – Puerta Galera. Planning again to visit Bohol 201& and do a extensive motor bike tour and really get to explore the place.